Cast your minds back, British readers over a certain age, to a time when dominatrices advertised on little cards in phone boxes rather than OnlyFans, when femdom images were to be found only on furtive trips to specialised shops in Soho and when those same images came wrapped not in endless entreaties to subscribe to one or other specialised service but in plain paper bags, usually a pastel shade rather than brown, for some reason.
Yes, I am talking about last July, 2023, when this blog featured a post called 'The 1980s called', devoted in part to rhapsodising about the magazines of Servitor's mis-spent youth and in part to a rip-off of homage to those magazines, in the form of a 'letters' section written in his mis-spent late adulthood.
I warned you then this might become a series and so it has. OK, I recognise that the number of this blog's readers who ever came across such magazines can probably be counted on the fingers of the one hand that is not presently in your trousers. But I don't care: this blog has never sought the easy route of popularity, and it has been consistently successful in avoiding it.
So, let me first feature a couple more covers from the real thing, the Vixen and Mistress magazines.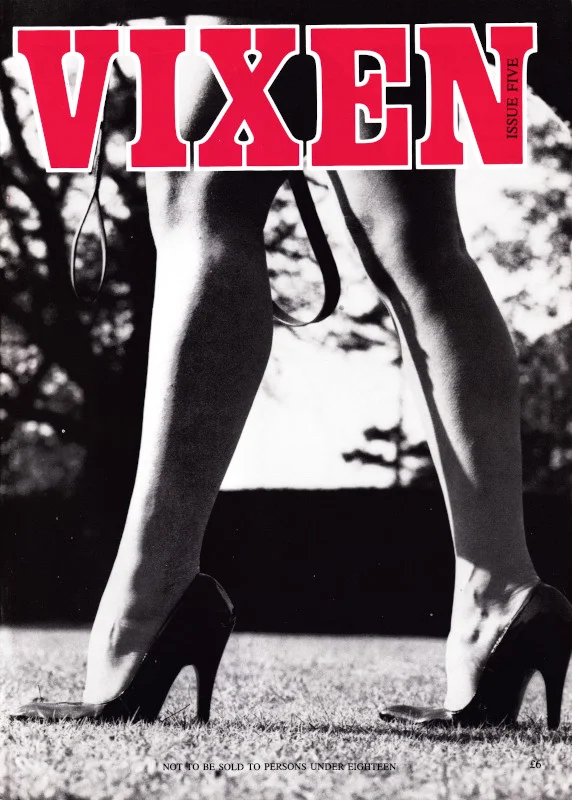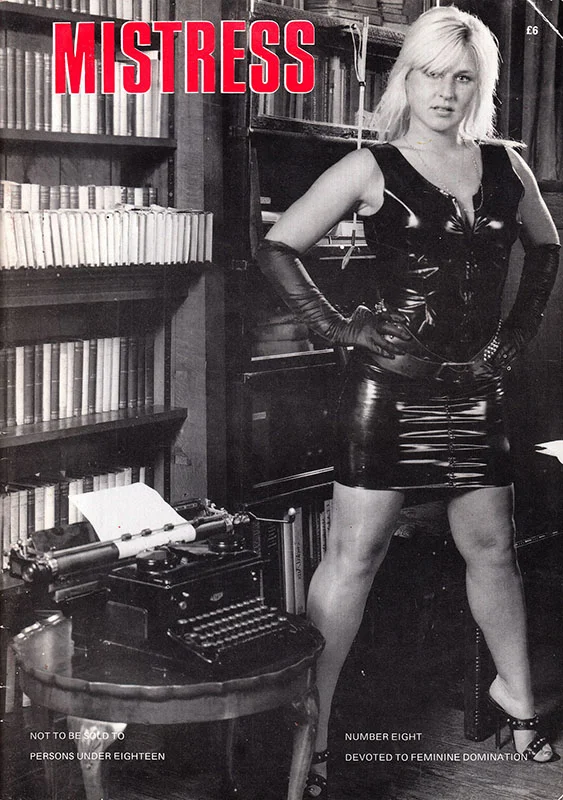 So, so lovely…
These are from the web page of the helpful guy at Swish Publications. He's scanned them all and is happy to sell them to you for a remarkably modest price (fewer £s than the originals cost way back then) so why you are still here reading my shabby imitation I have no idea. And I must also mention in a kind of Wayne's World 'we're not worthy' manner that the creator of the slightly later generation of femdom mag that was Cruella and Goddess is still going strong too, at https://cruella.com. Go on, Andy, Mr Rogue-Hagen, scan the old stuff and sell them as pdf mags… you won't regret it. And we'd love to see 'Victoria' and co again.
Right…
As before, the below are entirely made-up letters to an entirely made-up magazine called Empress, together with some modern photos made to look a bit like a 1980s magazine scan. Why? Oh, who knows. But with the world in such a terrible state, I guess we all just have to do what we can.
Empress Vol 3, Issue 2. Letters to The Editrix
Most sublime Goddess-Lady Lucia
The article entitled A dog's life for Steven in the June 1986 edition of your wonderful magazine reminded me of something your readers might enjoy hearing about. My wife is firmly in charge in our marriage: in all important respects I am no more than her slave. I long since learnt that any failures on my part – let alone attempts at asserting my independence – will be met with swift and painful corrective measures.
Just over a year ago, my wife came back from the shops with a small package. It turned out she had been to the pet shop and bought what I understand is called a 'shock collar' for dogs. It looked like a regular thin leather dog collar, with a kind of plastic box attached to it, from the inside edge of which protruded two rounded metal studs. It came without batteries (why don't manufacturers simply include them?), so I was sent out to the newsagent – it took one of those little 9 volt rectangular ones, and I bought one and a spare.
With battery installed, it was fastened around my neck and my wife fiddled a bit with the remote control that came with it and suddenly I had a horrible feeling that made me gasp. It's hard to describe, Goddess-Lady Lucia, even though I have since experienced it hundreds of times. It is not a hot, searing kind of pain on the skin of the neck… in an odd way it's not really pain at all, it's a kind of wrench right inside one's body. As I said, it's not exactly pain but the sense that someone has reached inside your chest and tugged at everything inside there at the same time is deeply unpleasant. Of course, I begged and whined to be released – and she did take it off, but this turned out just to be to drill an extra hole through the leather collar, to fit a small padlock. And on it went again.
I now wear it whenever I am in the house, and quite often outside. I have never particularly liked roll-neck pullovers but now I have several of them because they are just what is needed to cover it up. We don't play at my being her dog, you understand – it is just another way or punishing me for my faults and reminding me of my place whenever she deems that necessary. I am responsible for ensuring that it always has a working battery and that there is always a spare battery in the house.
As I am not a dog, of course, I can touch it with my fingers. So I soon realised that a small piece of paper, slid carefully down between my neck and the prongs, could insulate me from any shocks. I tried that once – just once. I jumped and squawked, whenever I saw her pressing the button, but of course sooner or later she gave it a press when I was not looking. The paper was found, the husband was caned mercilessly, every one of the shocks I had so deceitfully avoided (or her estimation of that total) were applied in triplicate and believe me I have never dared repeat the attempt.
I now give generously whenever I pass one of those collection boxes for the RSPCA. I have never been much of a dog lover, but I can definitely say they have my full sympathy!
In collared submission
Mrs Henshaw's husband.
Well, Mrs Henshaw sounds like a lady after my own heart! I strongly disapprove of these devices being used to hurt our four-legged friends, so I hope that every one of the vile devices is bought up by wives to put to the excellent use you describe. There is, after all, no Society (Royal or other) for the prevention of cruelty to husbands and nor should there be! G-L L.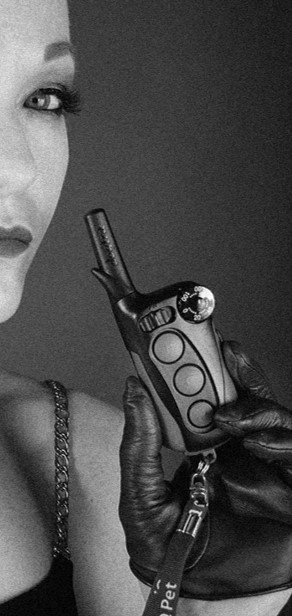 Most Superior Goddess-Lady Lucia
Your publication is simply wonderful, easily the best of its kind on the market. I particularly like the school-themed stories, as my own fantasies typically involve my sitting with head bowed at a plain wooden school desk, often frantically scribbling punishment lines, while a stern lady teacher taps her cane thoughtfully against her palm, planning the next phase of my detention.
Goddess-Lady Lucia, you are so beautiful and commanding and wise. I would love to spend my evenings in pointless drudgery, writing punishment lines at your command. If I could write lines in your honour, Goddess-Lady Lucia, what should IK write and how many would you require me to do?
Yours in scholastic supplication
Dayboy
How ridiculous you men all are! Fine – why not? Take an edition of Empress, roll two dice to pick a page, then close your eyes and point at a sentence. If it's less than fifteen words, close your eyes and point again until you find one. Then write it out for me, oh… shall we say a million times? Don't write again until that's done. If you manage to finish before you die, you can send the completed library-full to the address for letters – or better yet, don't. If you die first, just make sure your will makes clear I do NOT want to see the stupid things. G-L L.
Most Superior Goddess-Lady Lucia
I have been an avid reader of your wonderful magazine since the first issue, having always fantasised about being under the command of a beatiful young lady like yourself. Recently, I got married to a sweet but very inexperienced girl and after a few weeks I plucked up the courage to ask her for a spanking. She looked shocked and confused and said she wanted to talk to her Mum about it.
Although embarassed she'd be talking to her Mum (a lady I'd always suspected did not approve of me – any more than I did of her), it was perhaps not that unreasonable, as she was so inexperienced in matters sexual. I was just relieved she hadn't immediately said no, or laughed or something like that.  But a few days later, I came home and she announced she was ready to give it a go. Delighted, I took off my trousers but then to my horror she shouted 'Mum!' and my mother-in-law came into the room, put me firmly across her ample lap and whalloped the bejasus out of me! My God, she had a firm hand – and a bloody strong right arm, too. When she finally let me up, my face was red and wet with tears and my buttocks were black and blue – I could hardly walk! Needless to say, my cock had shrivelled to almost nothing, it was the most unsexy experience of my life.
I thought maybe that would be that, she'd leave and I could talk to my lovely young wife and explain that this was not what I had in mind. But the old harridan had come to stay with us! The next day, after a night on the couch, I found myself alone with my wife and tried to speak about it but… 'Mum!'. And you can guess what happened then.
Since then, they have found my stash of Empress magazines and I fear that has given them ideas. I do the housework in a little apron, I clean shoes with my tongue and handwash underwear – some very large and horribly stained underwear too – and they have bought a cane. All of my fantasies have come true – and I hate every moment. But the worst horror was to be threatened with 'facesitting' after my 'Mother Superior' read the story titled Lydia's living cushion in one of the recent issues. I don't think I'd survive – she must weigh 200 lbs at least!
Please, please Goddess-Lady Lucia, help me. You understand this is a sex fetish. Can you help me explain to my lovely young wife and her evil old cow of a mother that I just want an occasional sexy spanking, not to be the slave of some brutal old tyrant?  I was thinking maybe an article about how to balance sex fantasies with reality?  Obviously, please don't print this letter.
Yours in supplication
Desperate Dan
Ha ha ha!  My favourite letter of the month… oh I hope it is true.  And if the lady you describe as an 'evil old cow' is reading this then I hope she both takes note of how you described her and also reads carefully through the story titled 'The queue for the Ladies", because I think the scenario described there is another that you would probably enjoy less in reality than in fantasy. But I've tried it and it's perfectly practical: all she'll need is a plastic funnel and a suitably contemptuous attitude. Ladies of a certain age often need to pee quite frequently, so having someone ready (if not truly willing) wherever she is, at a moment's notice, would be a great comfort. Try eating asparagus first too, my dear, to give him an even more revolting time!  G-L. L.

Dear Goddess-Lady Lucia
I have noticed that many of the stories in your magazine feature lesbians. The beautiful girls who seem to indulge in this practice are often accompanied by pasty-fleshed, unattractive middle-aged males. Do you think perhaps they might take more of an interest in men if they had more impressive specimens to play with? I myself am fit, young and particularly well-endowed and I would be happy to teach any of these girls about the joys of being on the business end of a real man's tool.
Rifleman James
I assume this is a joke. You certainly are, small-bore Jimmy. I myself am bisexual as although I prefer to date women (the conversation, sex, hygiene and manners are all infinitely better), I do love the male penis. I have a special box full of small braided whips, clamps, spiked wheels and rough sandpaper and will happily spend an hour or two playing with a firmly secured fine male appendage, to get into the mood before sinking into the arms of my blonde beloved later. Your own penis sounds so lovely, I think I would probably want to keep it. In a box by the bed. Now go and wank off to a different magazine, as this one is obviously too difficult for you to understand. G-L L.
Esteemed Lady Lucia
I so admire the ladies in the stories in this magazine. I myself was 'introduced' to female domination as fantasy play by the man who become my husband and then, soon after our wedding, it was my turn to introduce him to what a real disciplinary relationship can be like. This came as quite a shock for him… I think he had expected me to prance around in leather and occasionally gently tap his bottom with the end of a riding whip, the silly thing. Needless to say, as soon as I had grasped the basic concept and with the help of lesser magazines than yours, I decided that a cane was my preferred instrument. Although 'bondage' hadn't featured in his fantasies, I also soon discovered that a good caning could only be administered if his wrists and ankles were secured. And the combination of a firmly secured man and a cane wielded with determination and entirely without mercy has provided me with a thoroughly satisfactory domestic arrangement ever since.
He said the funniest thing the other day, while strapped down over an armchair in our sitting room, awaiting the second dozen of a twenty-four stroke caning. Amidst all the tears and pleading, he blurted out "You don't know how much it hurts!". And of course, he's entirely right. I have never allowed anyone to hit me with a vicious implement like that and I never will. Why on earth would I? In this world, there are those who cane and there are those who are caned – and I have no doubt which side of that divide I prefer to be on! It is truly better to give than receive, as my dear mother used to say. Don't you agree, Lady Lucia?
A generous wife
No doubt you make sure that your husband appreciates the gifts you so generously bestow on him. As for the great divide, I quite agree about which side it is best to be on. I know there are some females who prefer the submissive role, but I have never felt the slightest desire to experiment with that! Unlike you, though, I have tried out the cane – I once asked a dear lady friend to give me just one stroke on the thigh, just to see what it was like. Bloody murder it was – and I am sure she did not lay it on hard. It almost made me sympathise the next time I had to dish out a proper caning to one of my slaves. Almost, but not quite. My own mother used to say 'Life's not fair' and it has been a delight for me, discovering just how unfair it can be made to be. G-L. L.
To Our Lady Lucia of the Boots
Oh, Mistress Lucia, what a delight to see so many pictures of you in lace-up boots in the March edition of your perfect magazine. I found myself consumed with jealousy at the sight of your two office slaves, permitted to lick the divine leather after their well-deserved thrashings.
My fantasy is to be nothing but a boot cleaner. Chained in a steel compartment, I wait for a passing lady to deposit a pair in the chute leading down to my box. I get to work, first carefully unlacing them, then licking all the mud off, before commencing the brushing and polishing and relacing the boots. A suitably dirty pair will take anything up to 12 hours. I place the cleaned boots on my back and lean forward into a floor-level pillory that automatically snaps into place. This displays a sign outside my box that the boots are ready and some time later that day or the day after, the front of the box will be lifted up, the lady customer will pick up and inspect her boots, award me a rating out of ten and administer any additional strokes of the handy crop she deems appropriate. Every few days the overseers come around and thrash us, at a rate of ten strokes for each rating short of a perfect ten we have received for each pair of boots serviced.
Goddess-Lady Lucia I know of course that my fantasy is unrealisable but while there are booted and demanding Ladies like yourself out there, the dream remains alive.
Bootcleaner #23
Well, #23, your fantasy, while ridiculous, is amusing enough and shows a proper appreciation of your place in this world. Licking boots, however, is a privilege not a valuable service: the tongue applied to a truly muddy boot will merely smear the mess around and excessive saliva does the leather no good. I insist instead on vigorous brushwork – but I do make the slave eat up the pile of dirt left on the newspaper when it is done. The boots you saw being licked are a special pair I wear when a slave deserves the reward of using his tongue – and I make sure he knows full well that the leather is impregnated with the saliva of many males before him. Yet still they beg for the privilege – what absurd and easily-enslaved creatures you all are! G-L. L.
Goddess-Lady Lucia is presently overseeing the production of the next issue of Empress, which will feature:
The continuing Trials of Steven: released from the Training Centre back into Ms Judy's care, Steven learns that he is now just one of a stable of slaves who must compete for her favour!


Re-educating the chauvinist. Malcolm mocks a women's lib demonstration and is taught the error of his ways.

Office Politics Part 2: the typists' revolt continues.

Return of the Gymslip Gumshoes. Our schoolgirl detectives are back, this time investigating a series of underwear thefts.


Nursing a Grudge: with his legs and arms in plaster, Ian can do nothing when the ward nurses decide to give him a series of enemas.

.

And of course Empress Editorial, Readers' Letters and the 'winners' of Goddess-Lady Lucia's Stupidest Slave Haircut competition.


Male creatures are instructed to ensure they have sufficient funds to buy it, then give the rest of their money anonymously to a woman.